We're not talking just about good looks here, though there's nothing like being fit and healthy (and rich) to make you attractive – no, we're looking at the diet and exercise routines of the ten fittest celebrities who combine determination with discipline. Who do you think is the world's fittest celebrity?
10. Halle Berry
Actress Halle Berry, who has just stunned the world of Twitter with a series ob bikini shots showcasing her fantastic figure at the age of 53, works out for at least 30 minutes a day, concentrating on bodywork and cardio exercises.
A diabetic since she was 19, Halle has to stay away from processed sugar and bread to keep her blood sugar levels under control. and sticks mainly to fresh, whole foods.
See also: 10 Things You Didn't Know About Prince George
9. Daniel Craig
James Bond star Daniel Craig uses professional trainers to get in shape for his all-action movies. His personal trainer focussed on power lifting and compound movement to create a lean, agile metabolism with an elevated heart rate.
Reportedly Daniel's typical diet while in training is:

Breakfast: Two poached eggs and tho pieces of Toast
Snack: Protein shake or fruits and nuts
Lunch: Meat or fish with small amount of brown rice, or baked potato
Snack: Protein shake or yoghurt with some nuts
Dinner: Meat or fish with some type of leafy green vegetables like salad, spinach, or broccoli.
Perhaps because of the injuries he's received on set, it's been reported that Daniel Craig is a fan of cryotherapy, or cold treatment, to reduce inflammation and speed recovery.
See also: Our Top Ten TV Celebrity Cars of All Time
8. Jane Fonda
Actress and activist Jane Fonda sealed her place as one of the world's fittest celebrities when she came out with her first workout video in 1982. Since then she has sold 17m fitness videos, and can claim to have founded the celebrity workout industry.
At 82, Jane has swapped out the more strenuous exercises for ones emphasising body alignment and relaxation.
"I have a fake hip, a fake knee, and I've had a number of back surgeries, so I'm sort of half-metal and half-bionic now. I have osteoarthritis and getting in and out of a car is a challenge. But I feel lucky that I did a lot of fitness work earlier in my life because it means I'm stronger now," she told the Daily Mail in 2016.
See also: 10 Things You Didn't Know About UK Online Shopping
7. Idris Elba
Luther star Idris Elba has maintained his position as one of the fittest celebrities well into his 40s by fitting in workouts between filming, He's reportedly a fan of swimming, running, strength training and kickboxing, which he recommends for building his abdominals.
See also: Which UK Celebrity Gave Her Name To Most Babies in 2019?
he says of his kickboxing training: "I'm not really allowed to do it while I'm working because it's considered too dangerous. Film producers get very nervous." But when he can, he fits in the routine two or three times a week.
Though he makes sure to eat breakfast every morning, he cuts out rice, pasta and beer as part of his dietary plan.
See also: Remembering Dame Diana Rigg, from The Avengers to Shakespeare
6. Cameron Diaz
With her background as a catwalk model, actress Cameron Diaz has always been fitness aware, but she really sot into shape for her role in Charlie's Angels in 2000.

Nowadays, although she still works out with her celebrity fitness trainer Teddy Bass, with a programme of dance, cardio, weights and Pilates to strengthen her core, Cameron is also all about meal prepping – she has written several book about her diet and fitness routine and how she usually prepares all her meals for the week on a Sunday.
See also: 10 Celebrities and Their Amazing Pets
5. Jason Statham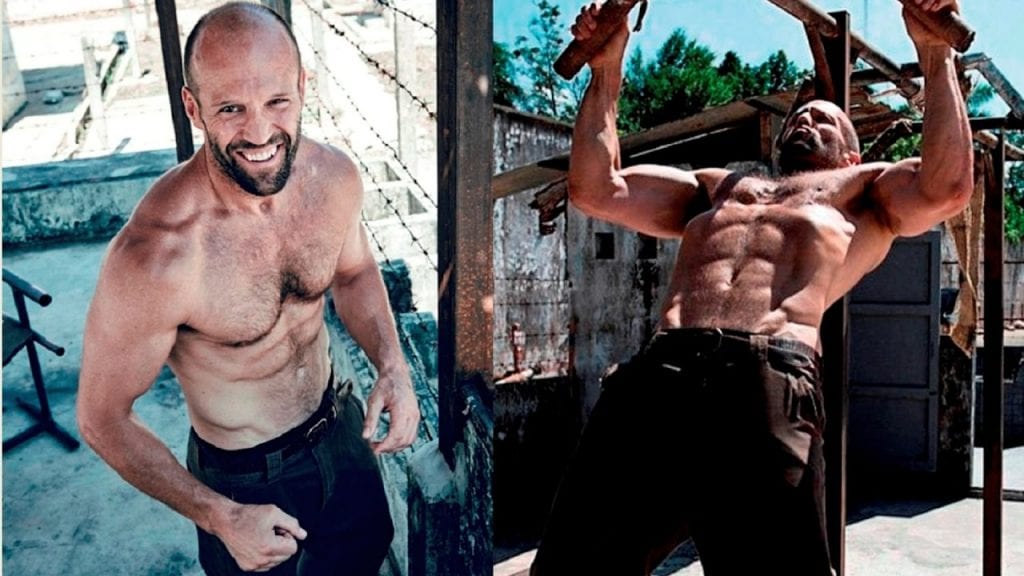 Before he became one of the word's fittest celebrities, actor Jason Statham was an international standard diver, representing England in the 1990 Commonwealth Games in New Zealand.
See also: What Are The Top Ten Celebrity Reality Shows Of All Time?

Now 53, he keeps in incredible shape for his action-packed movie roles, where he does much of his own combat and stunt acting. He says he eats well 95 percent of the time, drinking three litres of water a day and concentrating on a wholefood diet, but allowing himself occasional splurges on luxuries like chocolate.
But he also has a punishing six-days-a-week workout routine, involving a rotating schedule of rowing, deadlifting, circuit training, rope-climbing and trail running.
4. Rihanna
Rihanna isn't just one of the world's fittest celebrities, she's also an international singing superstar and fashion mogul, so she doesn't have much time for visits to the gym. Instead she has a 24-hour on-call personal trainer so she can fit in an exercise routine between appearances. She has also designed trainers for Puma, though she probably couldn't claim that has contributed to her levels of fitness!
See also: Ten TV Shows We Can't Wait To See Return
3. Chris Hemsworth
Avengers star Chris has to go for a muscular build for his role as Thor, so his exercise routine concentrates mainly on Muay Thai boxing, surfing and running. He has his own home fitness training website, CENTR, of which he says: "I feel so fortunate to have worked with incredible experts in the fields of health, nutrition, mindfulness and training, so I thought, 'Why not share that?' Tell my team what you want to achieve and they'll help you get there."
2. Pink
Alecia Beth Moore, better known as singer Pink, works out six days a week, using a combination of cardio and yoga. The high-flying athletic stunts in her stage shows require a half-hour warm-up before each performance, and she sticks to a mostly vegan diet, with only the occasional chicken or fish.
1. Dwayne Johnson
He's not only one of the highest-paid actors in the world, he's also easily among the fittest celebrities, with his pro football and sports entertainment background and tough-guy action roles demanding a mighty, muscular shape.
Dwayne has a six-days-on, one-day-off training routine, including a 50-minute cardio session and a muscle group-specific weightlifting series.
His diet, as you would expect, is all about protein, with loads of steak, fish, whole grains, eggs, green vegetables and protein shakes. No wonder they call him "The Rock"!

So who do you think is the world's fittest celebrity? The ten fittest celebrities we've chosen here combine determination with discipline, but while we might not be rich enough to afford the personal trainers and dieticians, maybe they all have something to teach us about diet and exercise routines. We're not just talking about good looks here, there's nothing like being fit and healthy to make you attractive!