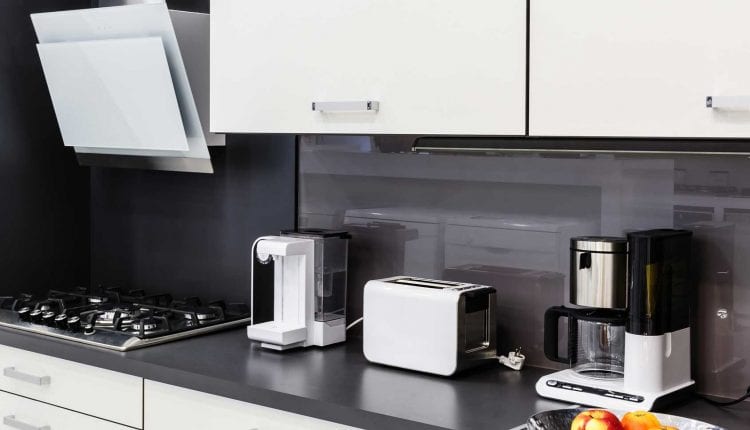 Convenient, aware and high-tech, smart appliances are quickly gaining popularity among homeowners and consumers. The internet has given rise to a whole new generation of gadgets—from coffee machines that send good morning texts to fridges that remind users what food needs to be bought. Here, Smart and Secure Home explores the different types of smart appliances on the market and their best features.
Refrigerators
Possibly the centrepiece appliance of any kitchen, refrigerators are becoming smarter, bigger and more eco-friendly. Samsung's Family Hub fridge features a touch screen that lets users manage their groceries, keep on top of social appointments and entertain guests by playing music or displaying pictures in a slideshow. This new smart fridge will make sure you never forget what food you need (or don't need) to pick up from the supermarket—built-in cameras take pictures of what's inside your fridge every time you close it and make them accessible to your phone from virtually anywhere. Other features include a calendar to jot down appointments, a recipe finder and the ability to place online shopping orders from the touch screen. Users will also be able to send notes and reminders from their phones or tablets to the fridge screen from anywhere.
See also: How to Get the Best From Your Garden Appliances
Coffee machines
New appliances such as the Smarter Coffee Machine offer a variety of functions that coffee aficionados will love. Through bluetooth or wifi, users will be able to control their machine from anywhere in their home. Whether that means scheduling alarms so you can wake up with the smell of freshly brewed coffee, adjusting the strength of your drink or setting reminders alerting when the water level is low, smart appliances of this kind are revolutionising the way we consume our favourite caffeinated hot drinks. Similarly, Nespresso's Prodigio machine promises to take your coffee experience to a whole new level by personalising brewing time, ensuring you never run out of your favourite capsules and reminding you to carry out the machine's maintenance jobs—all through its smart mobile app.
See also: My Kitchen Rules
Ovens and cookers
Smart ovens seem to be tackling the age-old problem of unpredictable cooking times and techniques. June, a new generation smart oven, takes the guesswork out of the equation. Its built-in cameras are able to detect what food is being cooked and suggest the best technique to adopt. Paired with an app of the same name, this oven can be controlled from anywhere—it has a built-in thermometer, a five-inch touch screen and a digital scale—and is also able to update its own software automatically.
Washing machines
These smart appliances allow users to program a wash remotely—anywhere you can get wifi—with a smartphone or tablet. Machines such as Samsung's Smart Washer can monitor the progress of your wash, interrupt it, collect maintenance information and alert the user when the wash is done and the machine is ready to be unloaded. The apps for these appliances can also flag up minor issues and provide guidance on how to solve them—they can also identify more serious problems that require engineers. Initially, Hoover and Samsung were the first two companies to launch wifi-compatible washing machines, but now more manufacturers are racing to release their own models as this smart appliance trend is quickly gaining momentum.
If you have enjoyed reading this article on smart appliances, click here to read more on Celebrity Angels about the ideal kitchen kit for healthy eating.