For all of us, the word cancer has horrible connotations. We think of it as an invasion, something completely out of our control, a disease that can weaken and even kill us.
For men, one of the most common cancers is prostate cancer. A diagnosis of prostate cancer can leave you feeling fearful and anxious about your future.
However, it is important to be aware that prostate cancer is a slow-growing disease. Many men die with it rather than from it. But what if you're one of those men who struggle with severe symptoms?
Prostate cancer can become an emotional burden due to physical and mental challenges. It impacts not only the patient but also their family and loved ones. Fortunately, there are many ways to cope with prostate cancer and its symptoms.
Managing Prostate Cancer Symptoms
Most men with early prostate cancer don't have any signs or symptoms. However, as the cancer grows, symptoms can start to manifest, taking a physical and mental toll.

Urinary problems
If the prostate tumor is large enough to compress the urethra, you may have difficulty urinating. This can result in a weak urine flow, urinary hesitancy, frequent urination, especially at night, and a sudden need to urinate. The good news is that there are some steps you can take to regain urinary control. Pelvic floor exercises, also known as kegels, can significantly benefit men battling urinary symptoms. They work to strengthen the pelvic floor, which in turn can improve urinary flow.
Fatigue
Both prostate cancer and the treatments for it can leave you feeling fatigued. Many men diagnosed with prostate cancer are surprised by how tired they feel and by the impact this has on their lives. If you are experiencing fatigue, it's essential to talk to your doctor, who can recommend ways to manage it. It is also vital to keep as physically active as possible to help improve energy levels, sleep, and mood. Many people find that they have more energy at certain times of the day, so try planning activities for when you are at your most energetic and set time to rest.
Pain
Pain is a common symptom for men with advanced prostate cancer, although some men have no pain at all. If you do experience pain, it can usually be relieved with pain-relieving drugs, bisphosphonates, nerve blocks, and other types of treatment. Some complementary therapies may also help.
Bowel problems
Men with advanced prostate cancer experience bowel problems for several reasons, including radiotherapy treatment. You might get these during treatment, or they can develop months or even years later. In these cases, you might want to avoid foods that cause bloating, reduce fibre intake, and chew food slowly.
Sexual problems
Some treatments for prostate cancer can affect erectile function, with certain surgeries damaging blood vessels and nerves. Men may also find that they are simply no longer in the mood, with stress, anxiety, and fatigue resulting in performance anxiety. You should not feel ashamed or afraid to speak to your doctor and partner about your problems. Communication is key.
Emotional support
Coping does not mean being positive all the time. You will have times when you feel sad, frustrated, and angry, which is perfectly normal. Some ways to help manage these feelings include:
Understand prostate cancer: Understand the causes, risk factors, treatments, and other helpful information.
Be active: If you can be more active, do not hesitate to make changes to your lifestyle.
Manage stress: Try to relax and learn stress management techniques. These might include listening to music, going for a daily walk, or meditation.
Keep up with your goals: Keeping your motivation, planning things, and setting yourself new goals can help you cope with the disease.
Get social support: Confinding, sharing, and accepting support from your loved ones can help emotionally.
Talk to a health professional: Your general practitioner, urologist, or nurse is an excellent place to start.
Local and online support groups: There are many support groups, both local and online, with men going through the same experience.
A prostate cancer diagnosis can be frightening, challenging, and very stressful. Communication is vital and can help you to cope with your diagnosis. Your family can become a fundamental source of support and encouragement. Remember, you are not in this alone; many men are walking down the same road.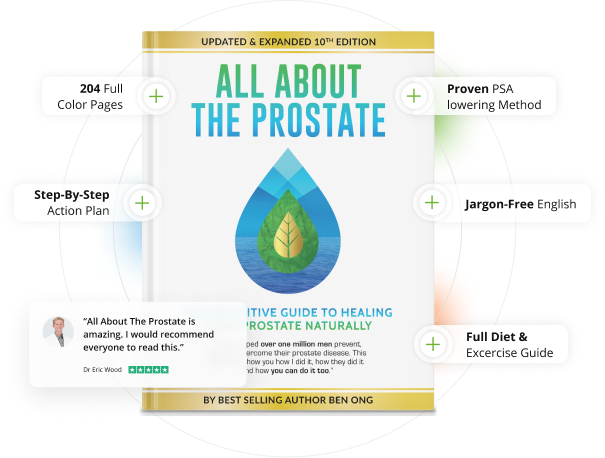 Ben's Natural Health is the all-natural holistic supplement company. We offer high-quality products for men and women who want to restore their health naturally, alleviate symptoms and protect against side effects.
The company was formed by Ben Ong, Natural Health expert and supplement formulator who has created a line of high-quality, all-natural and zero side effects supplements.