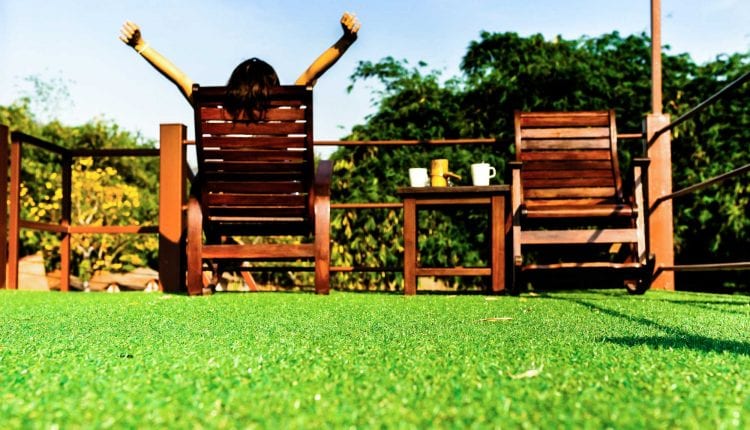 How to Create Your Perfect Garden: Part One – A Perfect Lawn
From a rustic idyll to a Japanese Zen garden, every plot has its own characteristics and special charm. We look at some of the top trends to tempt you into the garden – first, creating a Perfect lawn
From kitchen gardens to immaculately-manicured showpieces, everyone has their own ideas about how a garden should look, and what it should contribute to family life. A garden might have to serve several purposes – for play, relaxation, entertainment or even to provide food. But each garden is someone's pride and joy, and we love them all. Lets first look at creating a perfect lawn.

See also: Powering Through the Garden Work With Stiga

Perfect lawn: Green, green grass

A well-manicured lawn is of course the crowning glory of many gardens, but keeping it in trim requires time and dedication.

Among the little routine tasks you have to do are to remove weeds such as dandelions, scatter new grass seed on bare patches, aerate the turf by spiking with a fork, and rake out dead grass in the autumn.

On heavy clay soil it can be helpful to open up space using a garden fork every 10cm or so, and brush in some sharp sand to improve aeration and prevent compaction.

Try to avoid the temptation to use weed-killer as it doesn't help the overall health of the lawn.

But that's just the tip of the lawn maintenance iceberg. The real job is of course regular mowing; you need to do this job at least once a week in summer, and every two weeks In spring autumn and warm winters. Mowing encourages root development and healthy overall growth.

Perfect Lawn: Technology

There's an enormous choice of lawn mowers available, from petrol and electric to large ride-ons and tractors. What you choose will depend largely on the size of your lawn. In any case you must maintain your mower and keep the blades sharp. Adjust your mower blades for longer lengths, say 5-10cm in the summer, as this prevents grass from going brown in dry weather.

The last touch in sculpting a lawn is edging. This can be done manually with long-handled shears and a half-moon edger, but you're likely to get a neater job with an electric trimmer. Install permanent edging if the job becomes onerous.

Watering a lawn is of course essential, but don't over-water, particularly on a new lawn. Gardening expert Alan Titchmarsh says: "There's a great deal you can do to cut down your use of water in the garden, and fashion is on your side. Instead of a traditional, bowling green-style lawn, many gardeners are going for the natural look.

See also: Fire Safety Bill Debate Returns As Cladding Scandal Petition Grows

"Even a light shower in summer is enough to top up your water butts. Rainwater is un-chlorinated and naturally soft – perfect for plants. It's far better than the stuff that comes out of a tap for watering lime-haters such as rhododendrons, camellias and blueberries"

"By allowing the grass to grow slightly longer than usual and encouraging drought-resistant clovers and trefoils – which don't turn yellow when they are short of water – grass stays a lot greener in dry conditions."
See also: Tackling the Dangers of Carbon Monoxide in the Home
Alan also encourages the idea of re-using 'grey water' from your bath or saving rainwater in a water butt. While sprinklers can do a good job watering a lawn, they are wasteful, while saving rainwater in a butt reduces the risk of flooding and erosion and saves money.

Tap water contains chemicals such as chlorine and fluoride intended to keep it safe for drinking, but these are not good for many plants. Rainwater contains less minerals and is slightly more acid.

Use watering accessories extending to your lawn and flower-beds to make the most of the free rainwater. Some rainwater butts can be ugly, but good design can turn them into a positive garden feature – for instance designs from www.rainwater-terrace.com incorporate side planters, so they're pretty as well as practical.

Perfect Lawn: Artificial alternative

Of course, there's always the alternative of an artificial lawn. Modern artificial grass can look very realistic, and the advantages are numerous – no feeding, no patching, no mud in the house, safe for children and pets to play on, and soft and comfortable underfoot. If you're worried about drainage, it shouldn't be a problem if a permeable sub-base is installed.

Namgrass (www.namgrass.co.uk) is a leading supplier of luxury artificial grass, designed and developed entirely in-house and meeting the highest industry standards. Namgrass manufactures a large variety of grasses, with a range of budgets, making them accessible to all. A natural choice for the perfect lawn.