Does your home suffer from cold draughts or high heating bills? You don't have to sacrifice warmth and comfort for the beauty and charm of traditional timber windows and doors. The Sash Window Workshop explains…
Should I install double glazing?
Installing new double glazed windows and doors can help make a big difference to the energy efficiency of your home and reduce heating costs.
Double glazing works by having two panes of glass, with a gap between them. This gap is normally filled with Argon or Krypton, which are poor conductors of heat, meaning that heat loss is reduced, and the warmth is retained.
Today double glazing is standard, even for traditional timber windows and doors in period properties. In fact, most of the new timber windows and doors manufactured by The Sash Window Workshop are double glazed.
What if my windows don't need replacing?
If your windows are in a reasonable condition but you would like to upgrade to double glazed windows, installing new sashes into the existing window frames may be a good option.
Replacing the sashes requires a high level of attention to detail, so you need to ensure that you employ a specialist to do this. This is because all traditional windows are bespoke, meaning there is no 'standard' size.
If your windows are already double glazed, or you aren't looking to upgrade your windows to double glazing, you may want to consider draught proofing your windows.
Draught proofing is a good option for windows that rattle in the frame or let in draughts. It works by sealing the gaps around a window to reduce draughts, helping to improve energy efficiency.
How can I improve the windows and doors in my listed building?
If your home is listed, standard double glazing is unlikely to be approved. You sometimes may be allowed to install slim double glazing that has a similar appearance to single glazing. However, even if this is not allowed, it doesn't mean that you have to put up with cold winters and high heating costs.
One option to improve energy efficiency in a listed building is to install secondary glazing. Secondary glazing involves adding an extra window behind your existing window. This is a popular choice for listed buildings as it allows you to preserve the original windows while benefiting from a warmer home.
Repair work, such as draught proofing, is also likely to be permitted and can help make your home more comfortable during the colder months.
How do I know how energy efficient my new windows and doors will be?
In addition to keeping your home warmer and reducing heating bills, making your home more energy efficient will improve your rating for an Energy Performance Certificate.
All new windows and doors should have an energy rating. This can either be displayed as a U-value or an energy rating classification, similar to those you may have seen on other items, such as fridges or washing machines.
With energy ratings, A++ is the most energy efficient, with E being the least energy efficient. For U-values, the lower the number the more energy efficient the window or door is.
The materials used and the way the window or door is manufactured can make a big difference to energy efficiency. For example, Low-E glass has a clear, microscopic coating applied to the inner pane of glass that is designed to reflect heat back into the home.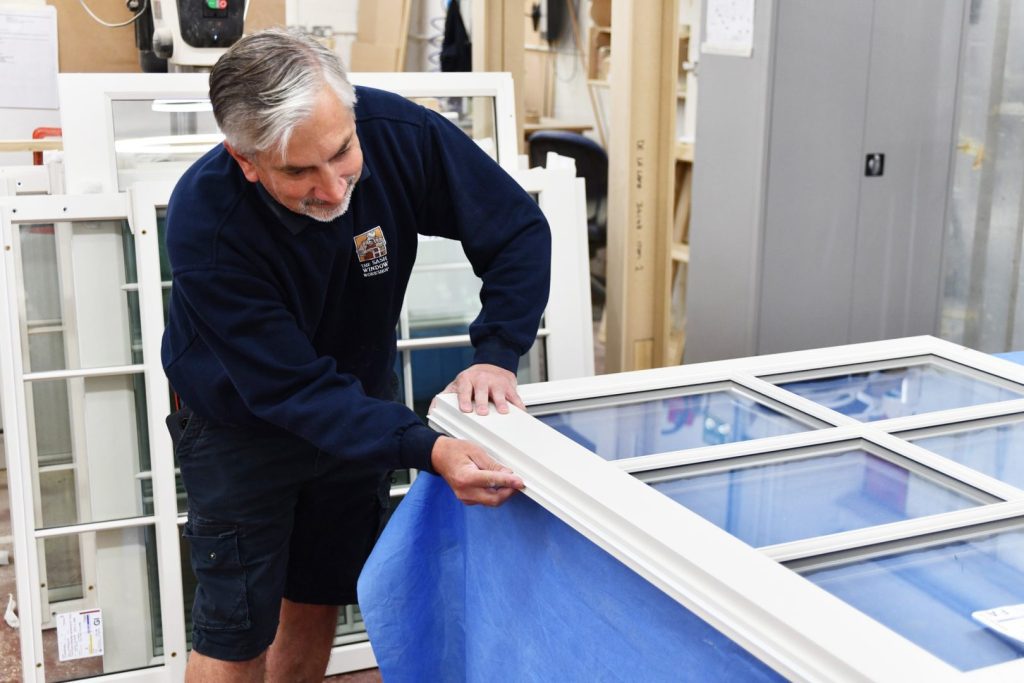 Is there anything else I should look for when choosing a supplier?
Before choosing which supplier to proceed with, it is important to check that they have experience carrying out similar work. This is especially important for more bespoke windows and doors, or for properties located in Conservation Areas or that are listed. When checking their experience, ask for recommendations or to see examples of similar previous jobs that they have done.
Check the company's accreditations. If you are having new windows or doors installed, the company will need to be registered with FENSA to guarantee that they meet building regulation requirements. Another important accreditation to check is whether they are a Which? Trusted Trader. Unlike many other accreditations, Which? require companies to undergo stringent checks to ensure that they reach the high standard that Which? expect.
Ask the company for a tour of the workshop. This allows you to see first-hand how they manufacture windows and doors and will be more reflective of the quality standards you can expect than visiting a showroom.
It is also important to check what materials the company intend to use. Different materials will have different life expectancy and will require varied levels of maintenance. When looking at timber windows, Accoya is a good choice as it has a long lifespan and requires minimal maintenance due to its stability and durability.
How can The Sash Window Workshop help?
The Sash Window Workshop specialise in manufacturing and installing high quality timber windows and doors that are both energy efficient and retain a traditional appearance. The company has extensive experience working on period properties, including in Conservation Areas and on listed buildings. They have won multiple awards, are a Which? Trusted Trader and FENSA registered.
Established in 1994, The Sash Window Workshop offer a range of services including complete replacement, new sashes, draught proofing, and secondary glazing. In addition to sliding sash windows, The Sash Window Workshop also work on casement windows, fixed windows, and external doors.
For a free, no obligation quotation, contact The Sash Window Workshop today on 01344 868 668 or visit https://www.sashwindow.com/.