These furniture and lighting pieces displayed at the 2021 Salone del Mobile in Milan Design Week give you an idea of what top architects and designers would like to see in our homes – but which 0f them do you think will find a place in your living room?
Andreu World x Philippe Starck
Adela Rex
Andreu World has a history of 65 years in furniture design and Philippe Starck is a legendary designer, so the plywood seats designed by the two were bound to be something special. Intricately designed with three pieces that fit together ingeniously, the chairs are part of a 100% Wood project – Starck says "We want wood in our lives. It's a basic human need to be surrounded by signs that remind us of nature and predict the future."

See also: Painting and Decorating – A Broad Brush Guide
Dior x MAD / Ma Yansong
Meteor
Architecture studio Mad Architects was invited by fashion house Dior to recreate its classic oval back chair Meteor, which is also known as the Medallion Chair. Made of monochromatic 3D printed polyurethane, the chair's futuristic and animated design is intended to evoke a sense of a journey through time and space.

See also: What to See at Decorex 2021
Sawaya & Moroni x MAD / Ma Yansong
Gu Table
The Gu Chair was created in 2018, so it's about time we saw the matching Gu Table. Designed to "correspond to human bones with flexible curves that seem to be an extension of the human form". the Gu Table and Chair draw inspiration from the human skeletal structures – "gu" means "bones" in Chinese. Both are made from wood which gives them a naturalistic feel.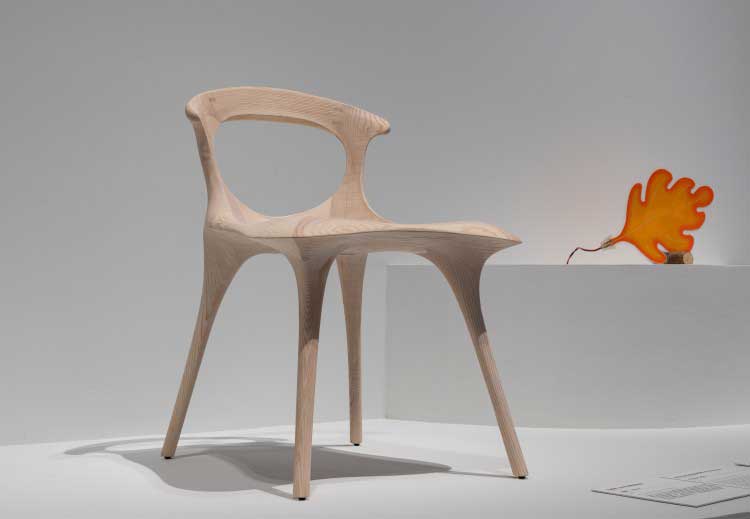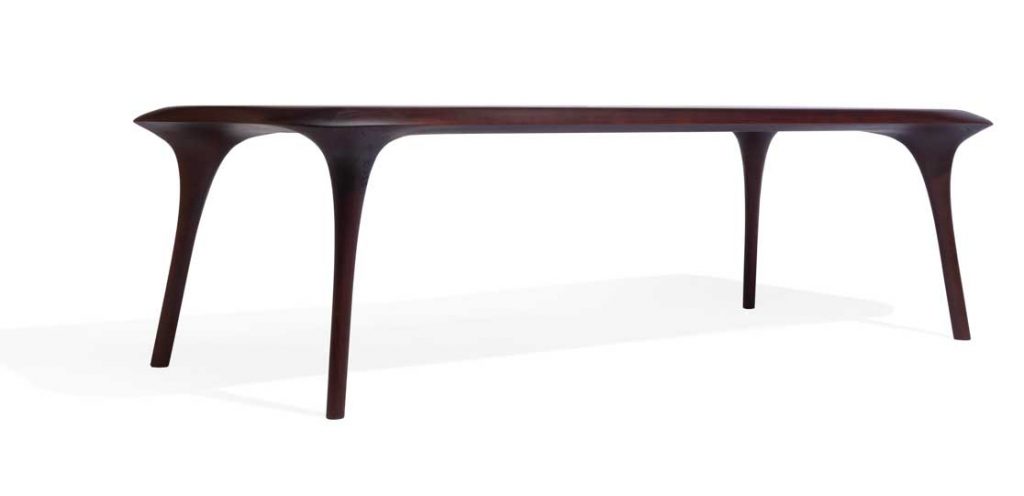 Artemide x BIG
La Linea
BIG's venture into the world of lighting with Artemide is an unusual fixture called La Linea, designed for "freedom, modularity, and flexibility". La Linea is 2.5 or 5 meters long, but can grow thanks to connections that disappear in the profile without leaving shadows or marks. The silicon hose generates a comfortable and diffused light and you can twist and manipulate the light tube into any shape you please, conforming to your space or breaking out of it.
Artemide x Herzog & de Meuron
El Porís
Another Artemide collaboration, this time with Herzog & de Meuron, El Porís is a modern take on the traditional chandeliers, composed of three steel tubes gradually decreasing in diameter towards the top, creating a conical silhouette. The prototype was designed for a house in Tenerife and the design is intended to mark the modern shift towards minimalism and simplicity.
UNStudio / Ben van Berkel
Node+ and Soliscape
Italian furniture brand LaCividina collaborated with UNSx to create the Node+, an adaptable furniture system designed to responds to users' changing physical and spatial needs. To match the concept, Soliscape, described as a "toolbox of flexible lighting and acoustic components that respond users' daily activities", was designed in collaboration with Delta Light.
UniFor x Aldo Rossi
Parigi armchair, Cartesio bookcase, Consiglio table, Museo chair
Furniture brand UniFor has launched the ARCHIVIOUNIFOR project, which recreates archive designs from renowned architects over the years. The first four pieces are reworks of the designs of Aldo Rossi's, created in the 80s and 90s. Created to express the combination of furnishing and architecture, the pieces were shown in a special installation mimicing a micro urban piazza that opens up before the spectator's eyes and invites him to immerse in it.
https://www.salonemilano.it/en

See also: RHS to Assemble Biggest Gardening Army Since WWII's 'Dig for Victory'