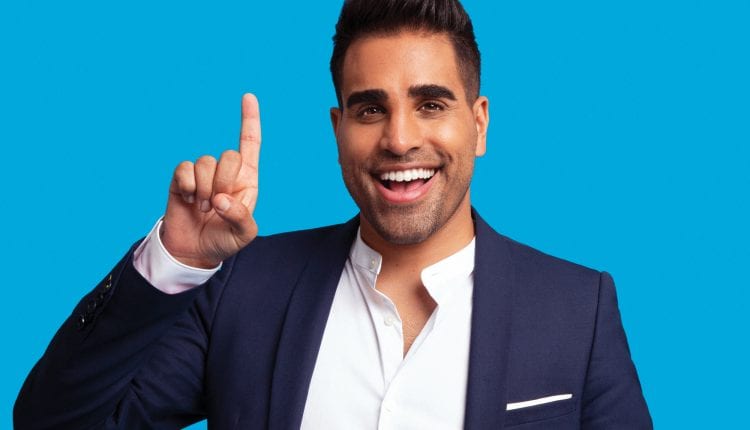 Healthy Child celebrity guest editor Dr. Ranj Singh took an HIV test live on ITV's This Morning as part of a campaign to eliminate the disease by 2030.
Record numbers of people have been encouraged to get and HIV test following watching Channel 4's series It's A Sin, about the development of HIV and AIDS in the gay community in the 1980s.

Now Dr Ranj is taking part in the Terence Higgins Trust campaign to raise awareness and work towards eliminating the disease.
The TV celebrity doctor, 41, used a home testing kit to perform the test on air, demonstrating the technique of finger-pricking to obtain a blood sample and collect it in a vial.
Together with hosts Holly Willoughby and Phillip Schofield, Dr Ranj Singh discussed advances in testing and treatment for HIV and said he hoped it could be eliminated in the UK in ten years.
See also: Children and Diet Supplements: What They Need To Grow Healthy
Test and treat
"We can stop HIV in its tracks in this country, with testing and treatment we can stop HIV by 2030," he said.
Advanced HIV treatment unavailable in the 1980s now means that an early diagnosis and treatment mean that carriers can live close to a normal life and will not pass the virus on.

See also: Dr Ranj Singh Speaks Out on Weight Loss App for Kids
While Dr Ranj explained that some people had difficulty getting enough blood out or the test, he said that "It gives you a result on the spot and it comes with a set of instructions."
See also: Dr Hilary Jones Supports NHS Lung Cancer Campaign
"The important this is to warm your hand up, put it in warm water. Milk the finger, get it nice and juicy, then you jab the end.
"Gradually give it a squeeze. There's a nice little juice droplet there, catch it in this cartridge. It is like a straw. Tip that over, four drops of this agent into the cartridge. Leave that for 30 seconds to a few minutes and then we should have a result."
Dr Ranj Singh, who came out as gay in 2009, tested negative for HIV, explaining to viewers that if their test showed positive, they would need to see a doctor for confirmation.
See also: Celebrity Doctors Call to BAME Community as UK COVID Deaths Reach 100,000
It's a Sin
Writer Russell T Davies, the writer and producer behind Queer As Folk, the 2005 revival of Doctor Who and Cucumber, loosely based It's A Sin on his own experiences in the eighties. The series, starring Years & Years frontman Olly Alexander alongside Keeley Hawes, Stephen Fry, Neil Patrick Harris and a number of new talents, was the biggest streaming title on All4.
In January and February, the NHS is running a free HIV testing service, and charity the Terence Higgins Trust says that its own Give HIV the Finger campaign has also had a surge in responses since the broadcast of It's A Sin.

See also: Figures Show COVID Deaths Are Down By a Quarter
HIV (Human Immunodeficiency Virus) is a sexually transmitted disease that attacks the immune system, and left untreated can lead to the condition knows as AIDS (Acquired Immune Deficiency Syndrome) in which the subject is liable to contract a number of life-threatening conditions. HIV has killed about 35 million people since the 1980s, and approximately 37 million people in the world currently carry it.

See also: Government's Coronavirus Restrictions Roadmap Criticised as "Too Slow"
A breakthrough in treatment was made in 1996 when ART (Anti-Retroviral Therapy) techniques were introduced, acting to suppress the virus, preserve life and prevent transmission.
See also: 1 Person In Every 50 in England Tests Positive for Covid
As part of social media marketing campaign It Starts With Me, Dr Ranj Singh said:
"We now have the tools to stop HIV, but it takes each of us to make it happen. The most common way to get HIV is by having unprotected sex with someone who doesn't know they have it.
"Here's how you can protect yourself and others from HIV:
Condoms
Condoms come in different sizes, thicknesses and materials.
When used correctly and consistently, condoms can help protect against HIV, other sexually transmitted infections (STIs) and unplanned pregnancies.
Pre-exposure prophylaxis
Pre-exposure prophylaxis (PrEP) is a medication that someone without HIV can take. It will stop them getting HIV during sex without a condom.
It is highly effective at preventing HIV, but it does not protect against sexually transmitted infections (STIs) or unplanned pregnancy.
Testing
Testing for HIV is free, fast, confidential and simple – you can now even do it at home.
The sooner you find out you have HIV, the better it is for your health. If you have HIV for a long time without knowing, it can damage your health and shorten your life. It's a good idea to test at least once a year (or more if you have unprotected sex with more than one partner).
Most people get HIV from someone who doesn't know they have it – the only way to be sure is to get tested.
Get tested
Do your bit to stop HIV in the UK by getting tested. If you have HIV, the sooner you start treatment, the better it is for your health – it protects you from illnesses which could shorten your life.
People on effective treatment cannot pass on HIV. That's because HIV medication works by reducing the amount of the virus in the body to 'undetectable' levels. This means the levels of HIV are so low that the virus cannot be passed on. This is called having an 'undetectable viral load'."
Find out more here about how treatment stops HIV being passed on.
See also: New Coronavirus Treatment Tested As Third Vaccine Is Approved for Use in UK