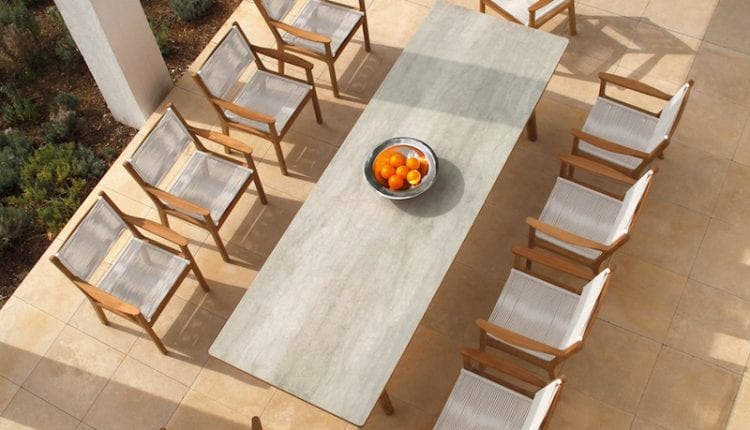 Why teak?
Teak has a naturally high oil content which makes it both stable and resistant to rotting when exposed to climatic extremes. For centuries, these special qualities have made teak the preferred choice for marine decking and construction, making it the premium timber for outdoor furniture.
Despite the nation's somewhat unreliable climate, more and more people in the UK are looking to extend their living and entertaining space into their gardens and terraces—whether they're in the city or the country. So, it's more important than ever to offer a range of designs and materials to suit every size and style of outside space.
Where does teak come from?
Teak (Tectona Grandis) is a deciduous hardwood tree, which comes from managed plantations, not from tropical rainforests. Indonesian government-owned plantations on the island of Java are a key source of teak for British garden furniture manufacturers. What's more, UK garden furniture producers seek to source teak from environmentally sound plantations.
How can teak be used?
The timeless beauty of teak—combined with newer materials, such as Textilene® braided cord or Italian ceramic—produces stunning results. It can also be combined with stainless steel, aluminium, and woven synthetics. Stainless steel and teak garden furniture is extremely popular at the moment and, being lighter and more angular, is ideally suited to the modern outside space.
See also: Could a 1970s Revival be the Next Interiors Trend?
But whatever the material, every range must be ergonomically designed and manufactured to the highest standards from materials that will last—beautifully.
Keeping teak beautiful
When Autumn is upon us, it's an ideal time to give your outdoor furniture its annual check-up. While all teak furniture can be left out all year round, it is advisable to cover it up in the cooler months. These covers are typically made using WeatherMAX-LT®, a modified highly UV-resistant polyester fabric offering superior strength and durability. These lightweight, one-way breathable covers allow trapped moisture to disperse but prevent rain and dust from penetrating. The covers are easy to put on and remove and can be stored in their own pouch when not in use.
If you are covering your furniture until next season, you should carry out your annual cleaning regimen beforehand. There is a range of care products that are easy to use and very effective. An annual or twice-yearly clean will be more than adequate in most instances to maintain your furniture in prime condition.
Barlow Tyrie – quality outdoor furniture since 1920
Trading since 1920, Barlow Tyrie is the world's oldest manufacturer of teak outdoor furniture. Barlow Tyrie remains a family business and is now in its third generation, with Peter Tyrie and his sons, James and Mark, working in management and product design.
Barlow Tyrie combines form and function with manufacturing expertise and experience. The company aims to create pleasing designs with good ergonomic performance to make outdoor living as stylish as it is comfortable.
Barlow Tyrie – An international reputation based on stylish yet practical designs, traditional craftsmanship, and excellent customer service has made the Barlow Tyrie brand synonymous with quality.
W: www.teak.com
E: .(JavaScript must be enabled to view this email address)
T: 01376 557 600