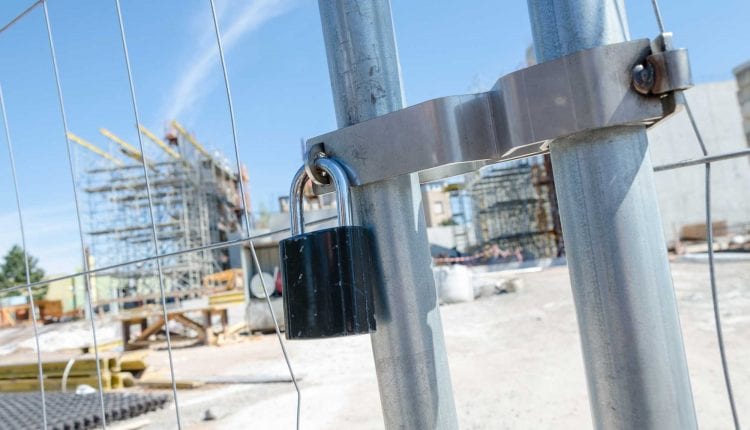 The Construction Leadership Council has warned that materials including cement, electrical components, timber, steel and paints are in short supply in the UK, and that everything from DIY projects to major building projects may be affected.
A combination of post-lockdown demand, shortage of shipping containers, production problems due to weather conditions and rising transport costs has been blamed. The Federation of Master Builders is concerned that smaller building companies may have to delay projects or even shut down if the situation continues. One home improvement company has advised homeowners to delay projects until autumn in case they are unable to obtain critical supplies in the middle of work.
See also: Back to Property Boom as Prices Shoot Up by 10 Percent
The statement from John Newcomb, CEO of the Builders Merchants Federation and Peter Caplehorn, CEO of the Construction Products Association, co-chairs of the Construction Leadership Council's Product Availability working group, said:
"Activity in the UK construction sector, already high at the start of the year, has been very robust and picked up sharply from the beginning of March. New housing and repair, maintenance and improvement (RMI), together with infrastructure, have led the way. We now also see increasingly strong performance in the commercial and industrial sub-sectors, applying further strain on the supply chain.

See also: Shed of the Year Finalists From the Weird to the Wonderful
Availability
"Back in March we warned that product availability would worsen before it improved. This is proving to be the case; projections indicate that strong demand will continue over the next six months. This mirrors similar projections worldwide, as major economies such as China, the US and the EU surge following lockdowns.
"In fact, most of the shortages of products and raw materials impacting the market have been driven by both global and domestic supply and demand factors. Previously reported issues relating to timber, steel, pitched roofing, plastics and paints/coatings continue. Growing areas of concern, however, include certain electronic components and bagged cement.
"Earlier this month British Steel advised that it had temporarily stopped taking orders for structural steel sections, though other products were unaffected. We understand this is likely to be a short-term interruption to work through a backlog of orders. Production and related operations continue at full capacity, but the global demand for steel remains extremely high.
"In addition to availability and resulting longer lead times, there is an impact on prices. The Office for National Statistics projects a rise of 7-8% in material prices, with increases for certain materials, such as timber, expected to more than double during the course of the year.
"New rules on hauliers have exacerbated the shortage of drivers in the UK, which is another contributing factor adding to delays and lead times not only in the construction industry but many other sectors as well."
See also: Will Government Planning Reforms Contribute to Slum Housing?
The supply problems are the combined effect of many projects restarting after lockdown, warm weather conditions in Scandinavia hitting timber supplies, cold weather in Texas affecting production of chemicals and plastics, and a sharp rise in shipping costs. The cost of shipping a 40 foot container from the Far East to Europe has risen from around £1,000 to more than £5,000. This has led to an increase in delivery times as well as materials prices.
The Office for National Statistics predicts a rise of 7-8% in material prices over the course of the coming year, with certain materials such as timber predicted to double in price.
Steel is in short supply, with some manufacturers suspending orders while they catch up with back orders, and Brexit may be another factor in delays, as 80 percent of the UK's timber supplies come from Europe.
Stockpile
With small builders unable to stockpile materials or plan jobs well in advance, materials suppliers are warning that the situation may persist for months. Building materials supplier Travis Perkins commented: "In instances where we have seen some challenges posed by global demand for raw materials or inflationary pressures, we continue to work closely with our suppliers and partners to ensure healthy stock availability for our customers."
According to Homebuilding.com, there has been restricted availability of insulation for several months, particularly PIR insulation and wool fibre insulation; and due to short supply, lead times for concrete tiles have tripled to three months, according to the National Federation of Roofing Contractors.
Paint supplies to the UK are restricted due to a global shortage and cost of shipping containers, and there was a severe plaster shortage earlier this year, but supplies are now much improved.
There are also reportedly shortages of:
Aggregates
PE and PP plastics
PIR insulation
Screws
Fixing
Plumbing items
Sanitaryware
Shower enclosures
Electrical products and appliances.
The Construction Leadership Council's statement concludes: "The unprecedented levels of demand, both in the UK and globally, is set to continue for the foreseeable future, placing the importance of forward planning and communication front and centre. Only by working positively together can we endeavour to provide customers with the products and solutions they require to complete projects in a timely manner."
Cost increases may also hit leaseholders of properties affected by the cladding scandal, as materials expenses for remedial work may be passed on to them.
Housing Minister Christopher Pincher reiterated plans to remove all the aluminium composite material (ACM) cladding, the kind used on the Grenfell Tower, from residential buildings above 18 metres in England by the end of 2021.
But commenting to Construction News, Steve Underwood, chief operating officer at contractor Colmore Tang Construction, said the government's commitment could overwhelm materials suppliers if they rush to meet the deadline.
Campaigners End Our Cladding Scandal plan to hold a national day of developer protests on June 5th.
See also: Fire Safety Bill Passes, Leaving Leaseholders Angry and Confused